Surplus Energy Equipment (SEE) has formed many business relationships with surplus equipment brokers and used oilfield equipment suppliers in order to have a larger inventory to meet our customer's unique requests.
In this blog we would like to specifically focus on used Joule Thomson (JT) skids or Joule Thomson (JT) plants, either used for natural gas liquid (NGL) recovery or BTU reduction.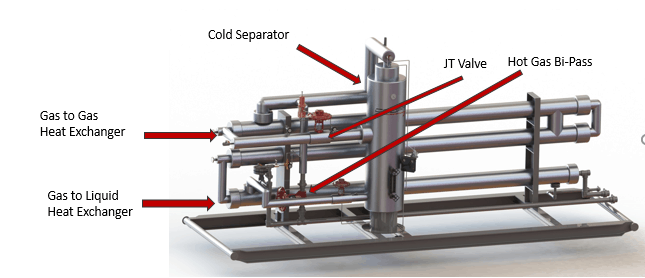 What is a JT Plant? A JT Plant utilizes a pressure drop to chill the gas for NGL recovery or BTU reduction.
When buying a Joule Thomson skid the areas of concern are in the heat exchangers which will leak by a blockage in the heat exchangers. The cold separator integrity and JT valves could also be seized up.
When looking for a JT the variable that most people go to is the volume capacity of the JT plant. For example, they will contact us and say they need a 5 MMcf JT plant which will indicate the size of equipment that they are requiring.