What to look for in used contact towers
Surplus Energy Equipment (SEE) wants the people that view its equipment to be educated on what to look out for when purchasing used oilfield equipment. The purpose of this blog is to review some highlights and key characteristics of this used production equipment; specifically contact towers in amine and dehydration.
What is a contact tower? A contact tower is high pressure vessel that creates contact between liquid amine or desiccant with gas stream in order to create absorption time. There are 3 main types of contact towers bubble cap contact tower, random packed contact tower and structured pack contact tower.
Bubble Cap Tray (most common) Bubble cap trays are used because of varying inlet flow rates. Tower typically have 5-6 trays, but some may have up to 8 trays. Properly designed, bubble trays retain good efficiencies over wide ranges of flow. Tray spacing typically varies from 18-30 inches.
Random Packed are typically used in smaller tower diameters. Performs better in systems with foaming or corrosive gasses.
Structured Packed provides the very low pressure drop and high efficiency required.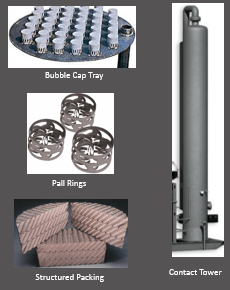 Look at the mating flanges to determine if the have enough meat on them and that if need be can be resurfaced to an appropriate tolerance. If there is a huge area of erosion you can conduct an UT test to determine tolerance level against the U1A.
If you would like to purchase a surplus or used contact tower off the website but would like to have it reconditioned or tested, that service can be conducted as well through our service partner, Croft Production Systems.
Need to buy parts for a contact tower click here.
If you have any used contact tower for sale click here.
If you like to buy a used contact tower click here.